Bay Area Air Duct Cleaning & Repair
Clean air ducts can affect the air quality in your home!
A healthy home begins with clean air. Homeowners often forget about cleaning their air ducts, allowing layers and layers of dust and dirt to form. Not only does this impact the life of your ventilation system, it also has a direct effect on your health.
Neglected air ducts can fill with dirt, mold, dust, and even pests like bugs and termites. All the air in your home moves through these vents coming into contact with these health hazards. An improperly maintained air duct can obstruct air flow, shortening the life of your heating and cooling system. They can also be a serious health risk and cause respiratory problems and even illness.
We can help you avoid these issues through our air duct cleaning services. We have a team of experienced technicians who are trained, licensed, and insured on the entire process of air duct cleaning.
This vast array of air ducts that stretch throughout your home is susceptible to damage. If your HVAC system isn't running as well as it first did, it may be due to a broken air duct. An old or antiquated air duct system should be inspected and repaired every few years to avoid further damage. A broken or malfunctioning air duct could be leaking air and wasting energy and money. Our expert technicians are trained to find any issues with your air ducts and fix them quickly and efficiently.
Your safety and security are our first priority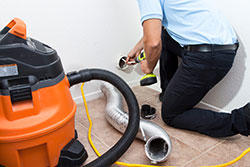 We only employ certified technicians who have the experience to confront even the most complex issues your HVAC system may have. They are familiar with every make, model, and brand on the market and have access to the information you need.
A broken or malfunctioning air duct can cause a spike in your energy bills. Don't hesitate to contact us if you suspect there may be a problem.
We are the premiere Bay Area air duct cleaning & repair company and our goal is customer satisfaction. That is why we offer quality air duct service at reasonable rates.
Get in touch with us today and receive more information about our services. You'll be glad you did!
Bay Area Air Duct Cleaning