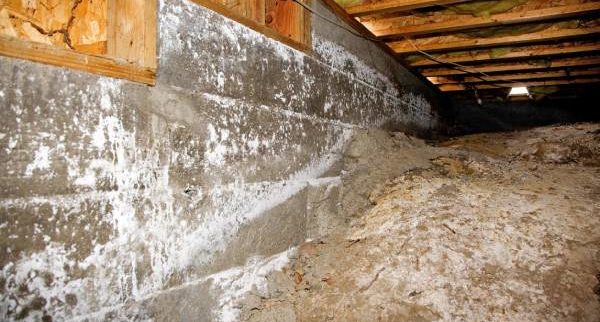 Why Hire a Professional Attic Insulation Removal Company
If you're considering tackling a home improvement task like insulation removal, experts urge you to think again. Learn how pros can keep you safe with expert crawl space or attic insulation removal.
Preserve Your Family's Health with Professional Insulation Removal Services
When handling and removing attic or crawl space insulation material, a meticulous approach to safety, not to mention efficiency, is required.
For the do-it-yourself homeowner, insulation removal and crawl space cleaning dangers include:
Asbestos exposure: Older homes typically have asbestos somewhere within the walls, in attic spaces, and/or under floors. Asbestos should not be disturbed or handled by non-licensed individuals, since
breathing in particles leads to serious lung damage. To avoid negative health consequences, old insulation must be handled and disposed of carefully, using the most advanced tools and current industry best practices.
Mold spores: Lurking in the areas of your home where insulation is found, you can find one or more unhealthy critters and their living conditions. Since these parts of the home are hidden for years at a time, you'll often be exposed to mold as you access and work in these areas. Mold growth can occur due to condensation caused by temperature changes and moisture from previously unseen roof leaks, cracks in foundations, or plumbing pipe drips.
Dust, insects and more: Insect infestations often occur in out-of-the-way spaces where insulation is found. You may come into contact with rodent droppings, dead insects, sawdust and other pollutants in these tight spaces. Touching, and breathing in, these pollutants can cause skin irritation, lung ailments and more.
Whole-family health risks: Simply wearing a dust mask won't provide you proper protection from insulation removal hazards. In addition, the disturbed material can get into your home's air supply, spoiling indoor air quality and affecting your entire family. That's why DIY insulation removal is simply unsafe.
Get It Done Right with Licensed and Trained Insulation Professionals
Hiring a pro for Bay Area attic insulation service ensures this important job is done correctly, and your new insulation installation is effective and long lasting.
Attic insulation professionals offer crucial advantages, allowing you to:
Save your back and shoulders: Insulation is found in dark and hard-to-access areas of your house, which means you won't be able to reach all the material without strain and discomfort. You could easily injure yourself.
Save time: Professional contractors make insulation removal efficient, safe and quick. Homeowners could take more than twice as long to remove home insulation.
Ensure proper prep work: New insulation saves energy and helps lower your utility bills, but only when installed in properly prepped attics or crawl spaces. If done incompletely or incorrectly, without proper installation of elements like crawl space vapor barriers, your new insulation (and your investment in your home) can be compromised.
Expert Insulation Removal in the Bay Area
As professional insulation installers, Element Home Solutions professionals can handle and dispose of contaminants without injury or danger to household residents. They can also get the job done quickly and neatly, using their experience and training, along with specialized protective gear and tools.
When it's time for crawl space or attic cleaning and insulation, schedule expert insulation removal by Element Home Solutions. Contact us today.