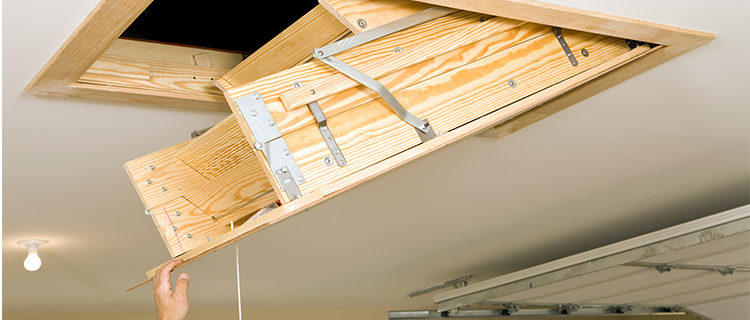 7 Simple Steps to a Winter-Proof Attic
The attic is of key importance during the Fall and Winter seasons. It plays important roles in keeping your Bay Area home comfortable: Protecting insulation, circulating air and preventing moisture from accumulating below in the living space.
Your Bay Area attic should be frequently checked, and here are 7 steps to keep in mind as you gear up for Winter and Fall season:
Ventilation: Ventilation of the bathroom and other exhaust fans should vent out either through the roof or the side of the house. Mold or mildew can spread into the attic if ventilations exit directly into it during the cold weather. As stated by the department of Energy's Building America Solution Center, the position of the duct wall should be at the side wall slightly below the fan. This is to ensure that the duct slopes down and away directing any condensation away from the fan.
Leaks: Be on the lookout for any white cloudy staining on the rafters close to the roof ventilations. These signs may be proof of a leak in the roof or maybe be a condensation problem.
Condition of Insulation: Insulation Keep checking the status of the insulation. Stay on the lookout for discolored, matted or wet insulation, these may be indications of a possible roof leak or condensation problem.
Gaps or Cracks: Keep all openings for pipes, wire and cables sealed with caulk or expanding foam. Also, make sure your attic hatch or door has proper insulation and seals tightly. Doors that do not shut fully allow hot air from your living space to exit.
Signs of Rodents: Check on openings at every end of the roof as well as soffits that may allow the entry of animals like rats and mice. Most vents are galvanized to prevent animals from entering. Rodents cause damage to your home by chewing on the electric wire or insulation. They can also spread diseases. Keep on the lookout for any animal droppings, feathers or foreign material from outside. [Related post: The Power of Rodent Proofing]
Soffits/Vents: Make sure that the soffit openings do not have any blockings or other material.This aids in getting your attic to circulate air from outside and allows excess moisture from the living space to escape.
Insulation Amount: Check insulation for the proper amount, about 10-14 inches. Light fiberglass insulation gets easily blown away. An attic uses a baffle to prevent air from wafting inwards. It is important to keep in mind that attics are normally dirty and rusty, so it is crucial to wear protective gear during work. You can bring along basic tools to help you with your activities i.e. a flashlight, measuring tape and a tube of caulk or expanding foam.
Looking for insulation, crawl space/attic cleaning and rodent proofing services in the Bay Area? Give us a call at (888)980-4822 for a free quote, or click here.