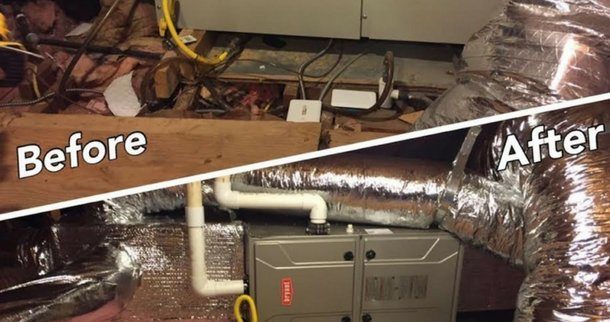 Do Your Air Ducts Need Cleaning? Here's How to Tell
You May Need Air Duct Cleaning if You Notice These Signs
Keeping your air ducts clean is vital for a variety of reasons. Proper maintenance will extend the life of your heating and air conditioning system, and keep it running more smoothly in general. Also, by ensuring that your air ducts remain clean, you keep your household in better health. The following are a few of the top indications that you may need air duct cleaning in your Bay Area home.
Obvious Dust and Dirt
The first sign to look for is the accumulation of dirt, dust, and debris. Take a look at the exterior of the vent covers. If you notice any dust or dirt, chances are good that the inside is dirty. Whether or not you can see dirt on the exterior, you should periodically remove the vent covers to check for dirt on the interior. Other components you should check include the return air registers, air filter, furnace compartment, blower fan, and motor.
Presence of Mold
When mold is growing on any of your system's components, this is a sign that they need to be cleaned and inspected. The manifestation of mold could mean that the ductwork has a moisture issue. Mold should always be removed, and the underlying problem should be fixed. If this isn't done, your household could experience health issues from the mold accumulation.
Respiratory Problems
If anyone in your home is suffering from respiratory problems, examine your air ducts. Clogged filters and dirty ductwork can result in unhealthy air. When the ducts are not kept clean, pet dander, dust, dirt, mold, and other pollutants can make their way into your home and your family's lungs. You might also consider adding a whole house air filtration system.
Vermin
Another reason to utilize professional air duct services in the Bay Area is the presence of vermin in the ductwork. This includes insects and rodents. If you hear unidentifiable noises coming from the ducts, be sure to have a technician inspect the system. The sounds you hear could be vermin invading the space. Other indications to be aware of are rodent droppings, insect husks or shells, and scratches on the sides of your ducts.
Fuel-burning Equipment
According to the Environmental Protection Agency (EPA), if you have a fuel-burning fireplace, stove, or furnace, it should be serviced and inspected for functionality every summer, before cool weather returns. This will help to protect your family from carbon monoxide poisoning.
By getting your air ducts cleaned annually, you will keep your household healthier overall. You'll also maximize the effectiveness of your HVAC system, and you won't need to replace it as quickly.
Do You Want to Schedule an Air Duct Inspection?
When you need air duct cleaning for your Bay Area home, use a reputable company to avoid future problems. Element Home Solutions provides expert air duct services for Bay Area homeowners. Contact us for a free quote on services, as well as 10% off when you choose our quote.